3 October, 2018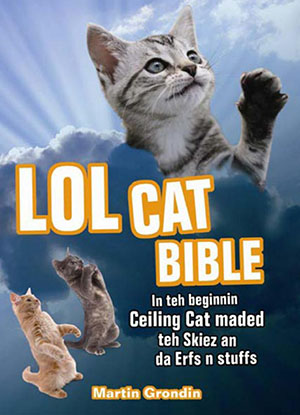 You may be disappointed that Big Meme has colonized the funny side of the internet, but if you want a glimpse of hope for the future, take a moment to reflect on the fact that people don't send "LOL Cats" around anymore. And the books they spawned are now worth a hot penny. Literally one cent.
Not just the LOL Cat Bible, either. "How To Take Over Teh Wurld: A Lolcat Guide 2 Winning" is on sale for $0.01. "I Can Has Cheezburger: A Lolcat Colleckshun" is also a penny. So is "How 2 Be Awsum: A Lolcat Guide 2 Life."
We did it. We stomped a bad internet turd down into the shower drain. Corn and all, it's consigned to the sewer of history, covers ripped off and returned to the publisher with extreme prejudice. Sure, the paper will be dissolved and recycled into the next book made out of a website, but for one fleeting moment, we were victorious over a corporate attempt to commodify humor.