24 March, 2019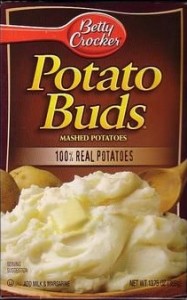 The bevy of commenters on this innocuous box of Betty Crocker Potato Buds have gathered in the review section to gnash their teeth and wail at the changing of the Betty Crocker Potato Buds formula.
I could just bawl. I loved Potato Buds for thirty years and I will never buy them again, instead I'll try all the other brands. I got at least four people (who said they would never eat instant mashed potatos) hooked on Potato Buds, because they were so different and so good. Now, they're not buds any more.
This is just a sampling. You should probably read the rest.