13 November, 2012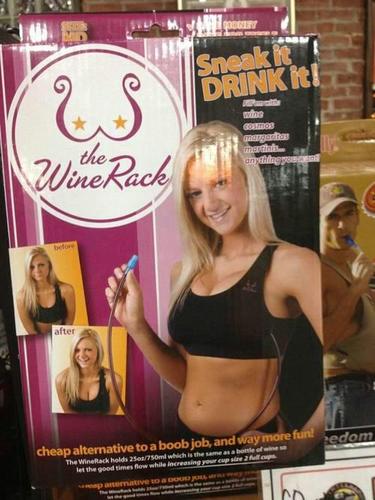 If you need to smuggle alcohol somewhere, the best way to do it is in your stomach. And if you need a place to hide and drink the alcohol to get it in there, well, that's why they invented bushes.
But if that doesn't do it for you, put 25 ounces of wine into The Wine Rack, a bra with a plastic hose that lets you suck the wine back out of the hose. I'm not sure how that's more covert than drinking it out of a glass. And you also have to consider that adults drink wine whenever there are more than 3 of them in a room, as a defense mechanism. It's not something people do in secret.
If your only problem with The Wine Rack is "I'd love to sip hot swill out of a plastic hose, but I don't wear a bra and 25 ounces isn't enough!" then the BeerBelly, an eighty-ounce prosthetic gut that hangs off your existing gut, may be the product for you.