7 June, 2013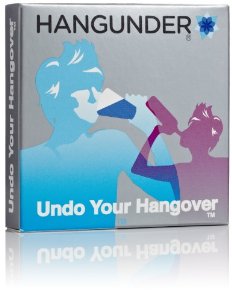 Hangovers, the collective name for the symptoms you experience after a period of heavy drinking, are thought to be caused by a number of factors. The main one, though, is dehydration. You can mitigate your hangovers by drinking a ton of water before and while and after you drink, but most people don't do this, because it makes you have to piss constantly, or you forget because you've been drinking, or you maybe fall asleep on the couch. Just like any other mild, nonfatal irritation, quacks are everywhere and they want to sell you hangover remedies.
Take Bytox Hangover Prevention Patch, for example. The manufacturer instructs you to "stay hydrated" during use. Which is, of course, the main thing that remediates hangover symptoms to begin with.
Next, look at Hangunder: Undo Your Hangover. The instructions are to mix the powder with twelve ounces of water.
I'm sure you get the picture, but the instructions for PreToxx For Hangovers are to take two pills with a full glass of water. Drinkwel: The Multivitamin For People Who Drink instructs you to take three pills with a glass of water when you drink.  Hangover Guardian says to take one or two pills and "drink plenty of water." Blowfish For Hangovers instructs you to dissolve two tablets in 16 ounces of water.
Just like homeopathy, hangover remedies attempt to sell you a placebo… but unlike homeopathy, they don't even give you the water to go with it.